Most Corrupt War
* * * * * * * * * * * * * * * * * * * * * * * * * * * * * * * * * * * * * *
Outsourcing the Pentagon: Who Benefits From the Politics and Economics of National Security?
Report by The Center for Public Integrity
* * * * * * * * * * * * * * * * * * * * * * * * * * * * * * * * * * * * * *
How Bush's Uncle Earned Millions in War Firm Sale
An SEC filing shows William H. T. Bush collected about $1.9 million in cash, plus stock valued at $800,000, from the deal.
By Walter F. Roche, Jr.
Los Angeles Times, March 23, 2006, WASHINGTON -- As President Bush embarks on a new effort to shore up public support for the war in Iraq, an uncle of the commander in chief is collecting $2.7 million in cash and stock from the recent sale of a company that profited from the war.
A report filed with the U.S. Securities and Exchange Commission shows that William H. T. Bush collected just under $1.9 million in cash plus stock valued at mofre than $R800,000 from the sale of Engineered Support Systems Inc. to DRS Technologies of New Jersey.
The $1.7 billion deal closed Jan. 31. Both firms have extensive military contracts.
William Bush was a director of Engineered Support Systems. Recent SEC filings show he was paid cash and DRS stock in exchange for shares and options he obtained as a director.
Before DRS purchased it, Missouri-based ESSI experienced record growth as a result of expanded U.S. military contracts--many to supply U.S. efforts in Iraq and Afghanistan.
The contracts, some awarded on a no-bid basis, include a $77-million deal to refit military vehicles with armor for use in Iraq. Other ESSI products used in the war include radar and detection services, field medical stations and field electrical generator units.
SEC filings show that two federal investigations of ESSI are underway. One inquiry involves a stop order from the government on the field generators. The order was issued because the units didn't operate properly.
The generator contract was a major source of revenue. SEC files show that ESSI did not tell stockholders about the stop order until last June, about seven months after it was issued. During the interim, several ESSI executives, including Bush's uncle, cashed in stock and stock options worth millions of dollars, the filings show.
According to one recent filing, the SEC and the U.S. attorney in St. Louis are investigating the delayed disclosure and other matters. Unnamed members of the ESSI board and corporate officers have been subpoenaed in the inquiry, according to documents.
SEC filings shows that William Bush, 67, exercised options on 8,348 shares of ESSI stock on Jan. 18, 2005, about two months after the stop order was issued and six months before it was disclosed. He colleced about $450,000 in cash.
Bush, known as "Uncle Bucky" in the president's family, joined ESSI's board in 2000, several months before his nephew became president. He heads a St. Louis investment firm and is the youngest brother of former President George H. W. Bush.
He declined to comment Wednesday. However, in an interview last year, he said he played no role in ESSI's winning federal contracts.
"I don't make any calls to the 202 [Washington] area code," he said.
Patricia Williamson, a spokeswoman for DRS, would not comment on the status of the federal investigations. The company has said it is cooperating in the probes, which also involve an ESSI insurance contract.
© 2006 Los Angeles Times
* * * * * * * * * * * * * * * * * * * * * * * * * * * * * * * * * * * * * *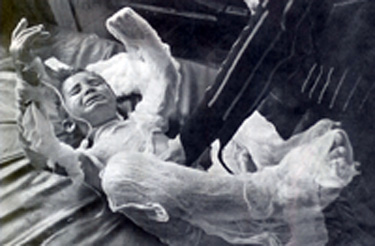 Fateh Kheiber, Reuters, Los Angeles Times, October 12, 2005
An Iraqi child injured in a mortar attack is treated at Baghdad's
Yarmouk Hospital.
* * * * * * * * * * * * * * * * * * * * * * * * * * * * * * * * * * * * * *
Asking Too Much of Too Few
By R. Keating, Editor

Many Americans who remember Vietnam are amazed to see America making the same mistakes again, but without hundreds of thousands of protestors in the streets. The lack of a military draft has made it easier for the government to make war without arousing the ire of those who'd otherwise have to fight it. "By giving young Americans the choice of whether or not to fight, we've also given them the choice of whether or not to care," said Carlos Alvarez, a student organizer for A.N.S.W.E.R.¹
The problem of course is that the same military personnel are returning over and over to fight. In Vietnam, most soldiers served only one tour. In Iraq, many already have served two or three.² Reservists are being especially hard hit, many serving multiple tours while leaving children and even grandchildren back home.
As the war winds on and its goal becomes less clear and less reachable, American troops are increasingly estranged from what they view as an apathetic or hostile country. Combat stress is rising as morale sinks. Five reports of American military atrocities are currently under investigation; troops are past the breaking point. Reporting on CBS Evening News May 27, 2006, Kimberly Dozier said there is a hardline military view in Iraq to "kill them all, and let God sort them out."
Support the troops. Bring them home.
______________________________
¹L.A. Alternative, May 19-25, 2006
² Kimberly Johnson and Rick Hampson, USA Today, June 15, 2006
See also:
http://www.motherjones.com/bush_war_timeline/
SUPREME COURT'S GUANTANAMO DECISION OPENS BUSH & CO. TO PROSECUTION UNDER FEDERAL WAR CRIMES ACT
Rosa Brookes, columnist for the Los Angeles Times, is professor of law at the University of Virginia. Her June 30, 2006 column raises a fascinating possibility. Patrick Fitzgerald, call your office...
The Geneva Convention 'catch'
THE SUPREME Court on Thursday dealt the Bush administration a stinging rebuke, declaring in Hamdan vs. Rumsfeld that military commissions for trying terrorist suspects violate both U.S. military law and the Geneva Convention.
But the real blockbuster in the Hamdan decision is the court's holding that Common Article 3 of the Geneva Convention applies to the conflict with Al Qaeda--a holding that makes high-ranking Bush administration officials potentially subject to prosecution under the federal War Crimes Act.
The provisions of the Geneva Convention were intended to protect non-combatants--including prisoners--in times of armed conflict. But as the administration has repeatedly noted, most of these protections apply only to conflicts between states. Because Al Qaeda is not a state, the administration argued that the Geneva Convention didn't apply to the war on terror. These assertions gave the administration's arguments about the legal framework for fighting terrorism a through-the-looking-glass quality. One the one hand, the administration argued that the struggle against terrorism was a war, subject only to t eh law of war, not U.S. criminal or constitutional law. On the other hand, the administration said the Geneva Convention didn't apply to the war with Al Qaeda, which put the war on terror in an anything-goes legal limbo.
This novel theory served as the administration's legal cover for a wide range of questionable tactics, ranging from the Guantanamo military tribunals to administration efforts to hold even U.S. citizens indefinitely without counsel, charge or trial.
Perhaps most troubling, it allowed the administration to claim that detained terrorism suspects could be subjected to interrogation techniques that constitute torture or cruel, inhuman and degrading treatment under international law, such as "waterboarding," placing prisoners in painful physical positions, sexual humiliation and extreme sleep deprivation.
Under Bush administration logic, these tactics were not illegal under U.S. law because U.S. law was trumped by the law of war, and they weren't illegal under the law of war either, because Geneva Convention prohibitions on torture and cruel treatment were not applicable to the conflict with Al Qaeda.
In 2005, Congress angered the administration by passing Sen. John McCain's amendment explicitly prohibiting the use of cruel, inhuman or degrading treatment of detainees. But Congress did not attach criminal penalties to violations of the amendment, and the administration has repeatedly indicated its intent to ignore it.
The Hamdan decision may change a few minds within the administration. Although the decision's practical effect on the military tribunals is unclear--the administration may be able to gain explicit congressional authorization for the tribunals, or it may be able to modify them to comply with the laws of war--the court's declaration that Common Article 3 applies to the war on terror is of enormous significance. Ultimately, it could pave the way for war crimes prosecutions of those responsible for abusing detainees.
Common Article 3 forbids "cruel treatment and torture [and] outrages upon personal dignity, in particular humiliating and degrading treatment." The provision's language is sweeping enough to prohibit many of the interrogation techniques approved by the Bush administration. That's why the administration had argued that Common Article 3 did not apply to the war on terror, even though legal experts have long concluded that it was intended to provide minimum rights guarantees for all conflicts not otherwise covered by the Geneva Convention.
But here's where the rubber really hits the road. Under federal criminal law, anyone who "commits a war crime...shall be fined...or imprisoned for life or any term of years, or both, and if death results to the victim, shall also be subject to the penalty of death." And a war crime is defined as "any conduct...which constitutes a violation of Common Article 3 of the international conventions signed at Geneva." In other words, with the Hamdan decision, U.S. officials found to be responsible for subjecting war on terror detainees to torture, cruel treatment or other "outrages upon personal dignity" could face prison or even the death penalty.
Don't expect that to happen soon, of course. For prosecutions to occur, some federal prosecutor would have to issue an indictment. And in the Justice Department of Atty. Gen. Alberto Gonzales--who famously called the Geneva Convention "quaint"--a genuine investigation into administration violations of the War Crimes Act just ain't gonna happen.
But as Yale law professor Jack Balkin concludes, it's starting to look as if the Geneva Convention "is not so quaint after all."
© 2006 Los Angeles Times.
Original content © 2006 Most Corrupt.com